Danke
Förderung
Petra und Dieter Frese Stiftung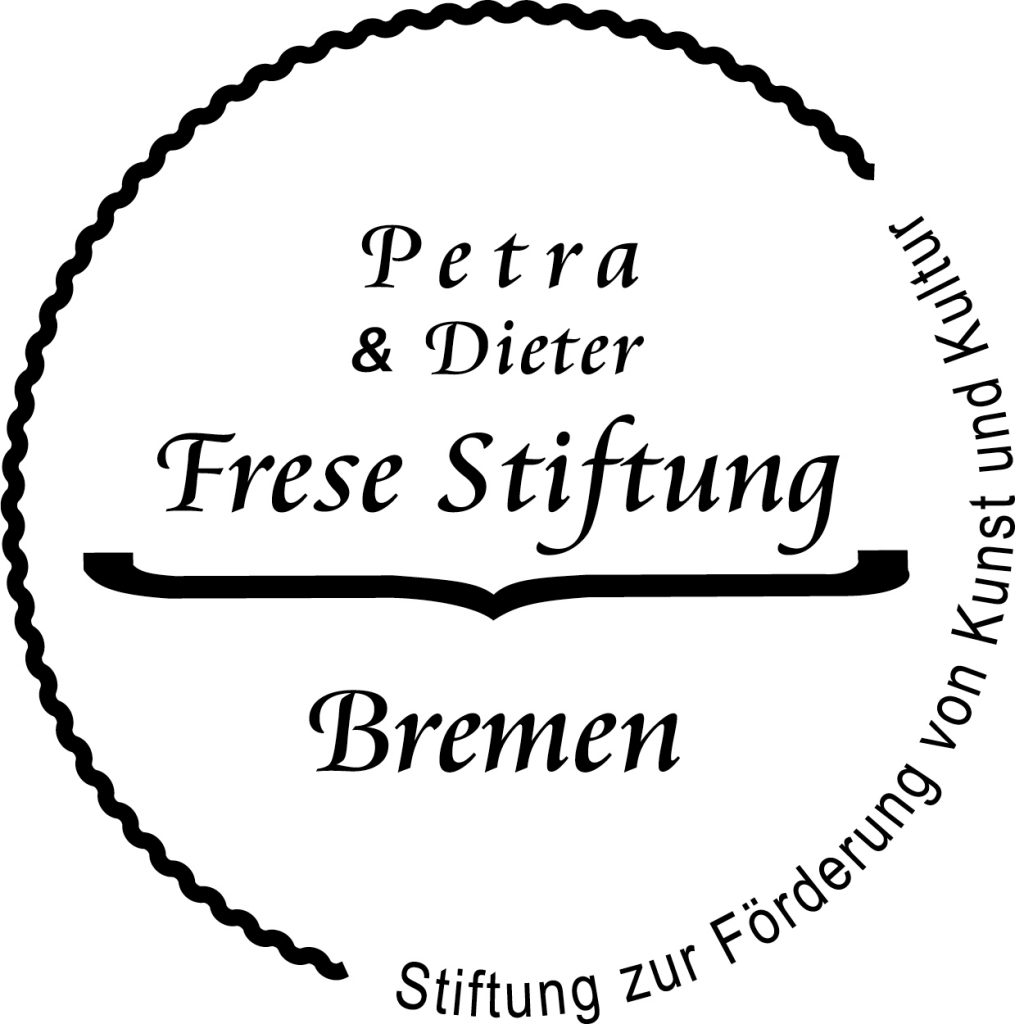 Die Petra und Dieter Frese-Stiftung wurde 2012 in Bremen gegründet. Ihre kontinuierliche Kunst- und Kulturförderung Bremer Kulturinstitutionen und freischaffender Künstler*innen im Lande Bremen fand im Jahr 2014 einen besonderen Höhepunkt in der Auslobung des Design-Preises in Kooperation mit der Hochschule für Künste Bremen.
Die Auszeichnung der Petra und Dieter Frese-Stiftung leistet seit 2014 einen Beitrag dazu, die Arbeit junger Designer*innen und Gestalter*innen national und international sichtbarer zu machen, ihr gestalterisches Engagement zu fördern und anzuerkennen. Von Corporate-, Produkt- und Modedesign über temporäre Architektur bis zu Interaction- und Interface Design und intermediales Gestalten – dies sind nur einige der Disziplinen, die an der HfK Bremen in den Studiengängen Integriertes Design und Digitale Medien gelehrt werden.
Die Zusammenarbeit zwischen Hochschule und der gemeinnützigen Stiftung stellt eine Erfolgsgeschichte dar, von der beide Seiten profitieren. Diese Kooperation gilt es, in den nächsten Jahren, fortzusetzen und auszubauen. Rektor Lambrette bedauert den plötzlichen Tod des großherzigen Stifters sehr: "Horst-Dieter Frese war der Hochschule für Künste stets zugewandt, sein aufrichtiges Interesse, sein Vertrauen und seine Großzügigkeit haben uns zutiefst berührt."
Freundeskreis der Hochschule für Künste Bremen e.V.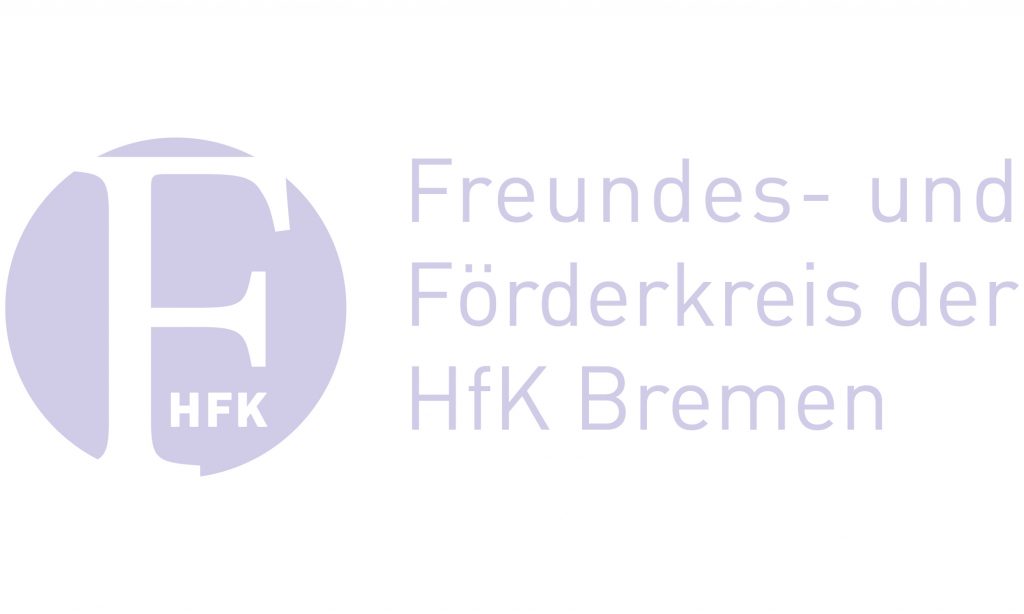 Unterstützung
Jury
Jasmin Grimm is a programme developer for international cultural projects and co-founder of Rosy DX – a studio for digitality. She develops concepts for exhibitions, festivals, conferences and workshops at the intersection of art, society and technology. Amongst others she has been developing concepts as programme advisor for re:publica "Arts & Culture" from 2017 to 2019.
Annika Tritschler studied Integrated Design at the University of the Arts Bremen with a focus on space, events and staging. In 2014 she was awarded the Bremen Design Preis. In 2014 and 2015 she taught at the University of the Arts Bremen. Since 2017 she has been working as a stage and costume designer at the opera stable of the Hamburg State Opera and the Dresden State Theater.
Giliane Cachin is an independent graphic designer and lecturer at the ECAL University of Art and Design in Lausanne, Switzerland. She worked as a graphic designer for the studios NORM (Zurich), LINETO (Berlin) and Cornel Windlin (Berlin). In 2017/2018 she was a research assistant at the ECAL University and guest lecturer at the Staatliche Hochschule für Gestaltung Karlsruhe (HfG). In 2015 she was awarded the Swiss Design Award, which enabled her to stay in New York for six months.
Prof. Emily Smith is Professor for Communication Design and Programme Coordinator for Communication Design at the UE University of Applied Science Europe, Campus Berlin. As an educator, designer, and researcher she is focused on the intersections between graphic design, visual anthropology, and choreography. She is also one of three Artistic Directors of the inaugural Fikra Graphic Design Biennial 2018: Ministry of Graphic Design based in Sharjah, UAE, the first graphic design biennial in the Middle East, which takes an expanded look at the field of graphic design.
Florian Weigl is curator at V2_, Lab for the Unstable Media. As curator and researcher he is interested in the intersection between art and technology. He joined the curatorial team in 2015 working on both presenting and co-producing works and research. Alongside his work at V2_, Florian works as independent curator, is an advisor for Mondriaan fonds, part of the Culture Advisory Committee Province Overijssel and Gelderland and advisor for Kunstfort bij Vijfhuizen.
Stefan Jeep is an Artist and Executive Director of the Künstlerhaus Güterbahnhof. As awardee of the Bremer Förderpreises für Bildende Kunst 1999 he exhibits amongst others photographs, videos and installations. From 2004 to 2006 he was funded by the Villa Minimo scholarship of the Kunstverein Hannover.
Umsetzung
Gestaltung und Konzept
Jan Charzinski
Life is_ Collective


Webdesign
Dustin Sherman

Online Support
Bremen ist
Circa 106
Chaostreff Osnabrück
Klub Dialog
Haus der Wissenschaft
MMS Offspace
Museum Weserburg Bremen
Phänomenal Bremen
Diana Soriat
Schwankhalle Bremen
Team Neusta
Theater Bremen
Wilhelm Wagenfeld Haus/Stiftung
Radio Angrezi
Weitere
Alle Ausstellenden, Imke Bahr, Gesa Blanke, Fabian Brunke, Dezernat 2, Shorouk Elzeftawy, Karim Fuad, Madita Handwerk, Michael Hinrichs, Alina Holz, Lukas Karsten, Rektor Roland Lambrette, Natalie Lürßen, Ruben Lyon, Laura McFarlane, Nelly Möller, Farah Nammar, Lilith Paluch, Susanne Schäfer, Can Sezer, Rick Schlüsselburg, Konrektorin Prof. Dr. Andrea Sick, Franciska Trybull, Max Überwasser, Dekan Prof. Ingo Vetter, Wedige von der Schulenburg (Frese-Stiftung), Paula Wagner, Sue Wendlandt